Gain
real-time visibility

into your business

Channel Streaming Data (Confluent Cloud, Apache Kafka®, AWS Kinesis) through the rest of the application stack and perform stream-to-stream joins at network-level latency to derive granular and aggregated real-time views.
Numbers about applications built with the Nstream platform
Customer proof points
Nstream has enabled enterprises to build streaming data applications seamlessly at scale with a fraction of the cost at network-level latency.
Scale
Stateful entities

100M+

Multiplexed streams

1B+

Changes per second

200M+

Full stack latency

< 1s
Efficiency
Faster time-to-value

10x

Fewer engineer-hours

4x

Less middleware

5x

Lower TCO

70%
What streaming data applications enable
Full stack data streaming
Most real-time data stops flowing before it reaches the application layer. Nstream picks up where the data pipeline leaves off and drives stateful services, streaming APIs, and real-time UIs entirely on push.
Model real-time state

Turn streaming data into real-time state. Instantly compute the consequences of every state change.

Observe real-time changes

Stream application outputs on a per-entity basis. Dynamically subscribe to exactly what you need—nothing more, nothing less.

See real-time results

Interact with the live state of your business through a real-time window instead of yet another dashboard.
Why streaming data applications matter
Expect more from streaming data
Every data pipeline ends with an application. Realizing the full potential of data in motion requires an application platform that can keep up.
Latency is loss.

Backlogged data is as lost to the present as deleted data is lost to the future. Nstream relies on cache coherence rather than messaging semantics to ensure the lowest possible end-to-end latency.

Data depreciates.

Real-time data has to be used before it becomes useless. Optimized for data locality to minimize network hops, Nstream evaluates stateful business logic the instant new data arrives.

Time is money.

Local memory is a million times faster than the remote memory. Nstream gives business logic memory latency access to related context by asynchronously materializing it.

Causes have effects.

No event happens in isolation. Nstream cascades streaming data across a distributed state machine to infer the downstream implications of upstream observations.

Inaction has consequences.

Insights are only as valuable as the actions they trigger. Nstream acts on streaming data as it flows by chaining the output of any state to the input of any computation.

The future is observable.

If you understand the present, you can see the future coming. Nstream keeps humans in-the-loop with interactive user interfaces that update at the speed of change.
How streaming data applications work
Built from first principles to be stateful and streaming
Nstream builds on the open source foundation of SwimOS, the first full stack streaming application platform. SwimOS provides stateful services, streaming APIs, and real-time UIs. On top of this Nstream adds customizable solution kits, configurable data connectors, and a scalable control plane.
SwimOS
Turn streaming data into real-time state.

Convert streaming data into real-time states and instantly analyze the outcomes of each state change in real-time via Stateful Services.



Stream incremental updates to API clients.

Deliver streaming application output for any single or aggregate entity, and dynamically subscribe only to the precise data you require.



Interact with live data visualizations.

Engage with your business through a live windshield, not just another dashboard. Gain real-time insights that offer a comprehensive understanding of the overall business as well as granular operations, enabling informed decisions and real-time responses.
Nstream Platform
Incorporate Data from any source.

Source and sink connectors to seamlessly receive and send data to the most popular streaming data systems (Kafka, Pulsar, Kinesis) and data at rest systems (Databases, mainframes, legacy applications).

Scale up in the Cloud or down at the Edge.

Control Plane enables you to effortlessly scale to enterprise-level workloads, easily deploy and manage your streaming data applications across various environments.

Compose Apps from Building Blocks.

App toolkits provide readily available architectural and functional templates to get you started quickly to build full-stack streaming data applications for your business needs.
Enterprise-grade streaming data applications
SwimOS & Nstream Platform
Everything developers need to build streaming data applications. Plus everything enterprises need to operate at scale.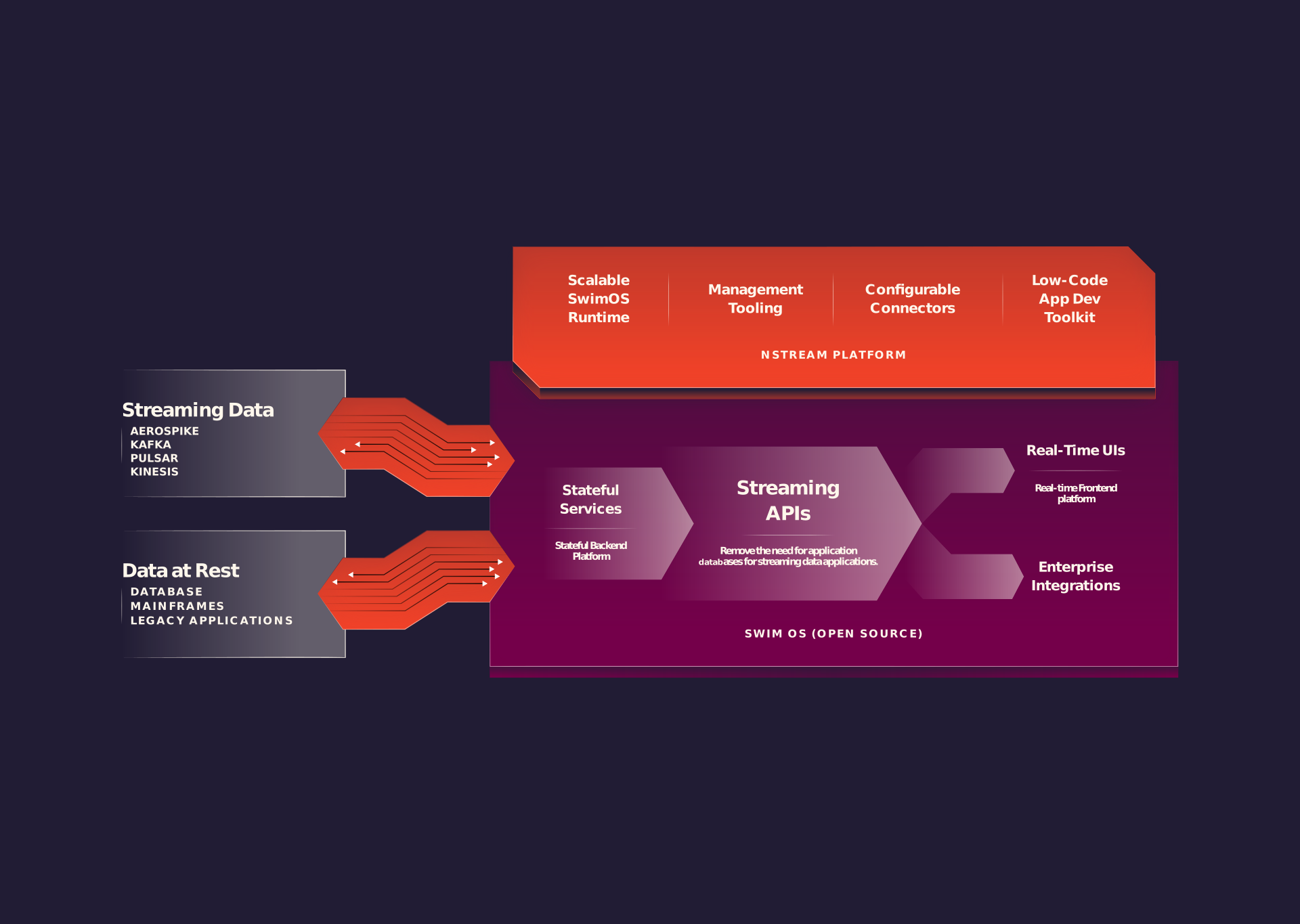 Streaming data application use cases
Anchor solutions
Nstream is the fastest way to build full stack applications that take full advantage of real-time data.
Customer 360

Unify data about a customer to create a complete, integrated picture of what a customer is experiencing in the real world in real-time allowing you to create personalized experiences at scale to give customers exactly what they want, exactly when they want it.

Fraud Detection

Get real-time visibility (via a dashboard, map view, and custom UI) and run business logic that makes it possible for you to detect and act on anomalies as they happen.

Asset Monitoring

Gain a real-time view into your inventory levels at a warehouse allowing for optimal resource allocation. You can also streamline your supply chain processes and make proactive, data-driven decisions for superior asset and inventory control.
Get expert advice and support
If you want to learn more about SwimOS or the Nstream Platform, reach out to us to book a time with our team of experts who will help you on your streaming data application development journey.